People! The Reunion Concert 2006
Solid Rock SRA-SRD-126, 2007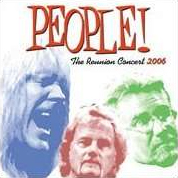 This is a People reunion concert which took place in the summer of 2006. Dennis Fridkin, Gene Mason, and Larry Norman performed at Willamette University in Salem. Larry's solo set from this concert has been released on the DVD "Live At The Smith".
01. I Love You
02. Riding High
03. Cryin' Shoes
04. Somebody Tell Me My Name
05. She's A Dancer
06. Hey Sweetheart
07. I've Got You On My Mind
08. We Need A Whole Lot More Of Jesus
09. Hasty Heart
10. Why Don't You Look Into Jesus
11. Twelve Good Men