Magnetic Real - The Living Room Tapes, 1963
Solid Rock SRR-104, 2018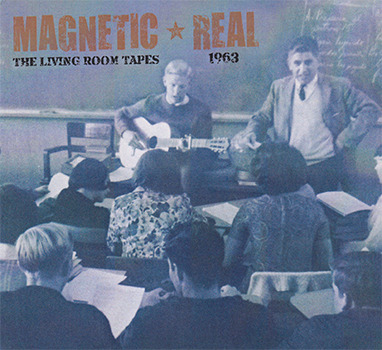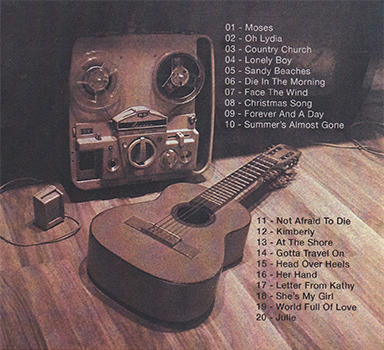 This CD was concurrently released with "Sierra Romeo", "The Salt Of The Sea" and "The Hum Of The Diesels". "Magnetic Real" features twenty songs which were previously issued on four seperate discs in the Solid Rock Army (fan club) series. The SRA disc of origin is mentioned in the second column below; in between brackets the release year of the SRA disc is given. The recordings were made in 1963, when Larry Norman was 15-16 years old. For additional details, check the SRA releases themselves.
01. Moses
From: "Magnetic Real, The Living Room Tapes, vol. 1, 1963" (2011)
02. Oh Lydia
From: "Magnetic Real, The Living Room Tapes, vol. 4, 1963" (2013)
03. Country Church
From: "Magnetic Real, The Living Room Tapes, vol. 2, 1963" (2012)
04. Lonely Boy
From: "Magnetic Real, The Living Room Tapes, vol. 3, 1963" (2013)
05. Sandy Beaches
From: "Magnetic Real, The Living Room Tapes, vol. 2, 1963" (2012)
06. Die In The Morning
From: "Magnetic Real, The Living Room Tapes, vol. 4, 1963" (2013)
07. Face The Wind
From: "Magnetic Real, The Living Room Tapes, vol. 1, 1963" (2011)
08. Christmas Song
From: "Magnetic Real, The Living Room Tapes, vol. 4, 1963" (2013)
09. Forever And A Day
From: "Magnetic Real, The Living Room Tapes, vol. 1, 1963" (2011)
10. Summer's Almost Gone
From: "Magnetic Real, The Living Room Tapes, vol. 3, 1963" (2013)
11. Not Afraid To Die
From: "Magnetic Real, The Living Room Tapes, vol. 2, 1963" (2012)
12. Kimberly
From: "Magnetic Real, The Living Room Tapes, vol. 2, 1963" (2012)
13. At The Shore
From: "Magnetic Real, The Living Room Tapes, vol. 3, 1963" (2013)
14. Gotta Travel On
From: "Magnetic Real, The Living Room Tapes, vol. 1, 1963" (2011)
15. Head Over Heels
From: "Magnetic Real, The Living Room Tapes, vol. 3, 1963" (2013)
16. Her Hand
From: "Magnetic Real, The Living Room Tapes, vol. 4, 1963" (2013)
17. Letter From Kathy
From: "Magnetic Real, The Living Room Tapes, vol. 1, 1963" (2011)
18. She's My Girl
From: "Magnetic Real, The Living Room Tapes, vol. 4, 1963" (2013)
19. World Full Of Love
From: "Magnetic Real, The Living Room Tapes, vol. 2, 1963" (2012)
20. Julie
From: "Magnetic Real, The Living Room Tapes, vol. 3, 1963" (2013)