Live At The Elsinore
Solid Rock SRD-605, 2005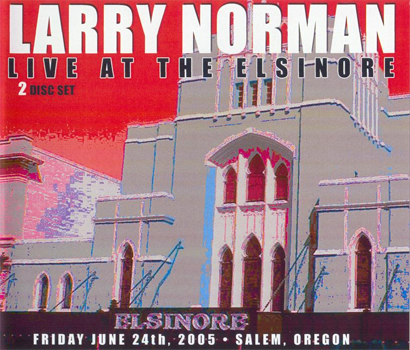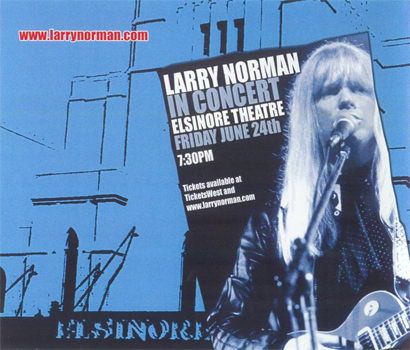 2CD live concert, recorded June 24, 2005 in Salem, Oregon. #605 is not shown on the release, it was once shown on the Larry Norman website. See below for the Elsinore Rehearsal CD.
This album is available as a download on Larry Norman's Bandcamp pages; the volume of the band set has been adjusted and there are more track splits. The song "Last Time" has been omitted (Rolling Stones cover, covers are not allowed on Bandcamp), "Beatles Montage" is still there.
1-01. The Great American Novel
1-02. Song For A Small Circle Of Friends
1-03. Reader's Digest
1-04. Let The Rain Fall Down
1-05. U.F.O.
1-06. Six Sixty Six/God Part III
1-07. I Wish We'd All Been Ready
1-08. Maggie/Beatles Montage/Drinking Gourd
1-09. The Outlaw
1-10. African Gospel Acappella/Lay Your Hand On Me Jesus
2-01. Little Wabbit
2-02. Few Days With You
2-03. The Moon's A Harsh Mistress/One Way/I Am A Servant
2-04. Standing Here Today
2-05. Song For My Piano
2-06. Dance Before The Throne/Train/Can't Get That Stuff/Why Don't You Look Into Jesus/Watch What You're Doing/Twelve Good Men/ Last Time/Why Should The Devil