BLUE NOTE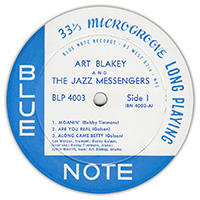 The Blue Note label is the most fascinating jazz label, at least, that's what it is to me and
to thousands of other jazz enthousiasts. Having an original Blue Note LP in your hands feels
like pure magic. From the music to the cover art: in many cases it just couldn't have been
done any better.
My intention with these pages is to show the few original US Blue Note LP's which are in my
collection. 'Original' doesn't necessarily mean original first pressings, it means the album was
released by Blue Note and not by some other company, and pressed in the 1950's or 1960's.
Most of my Blue Notes are later reissues from the 1970's or later. Though not always cheap,
these reissues are usually much more affordable than original or early US pressings. If you
want to build yourself a fine collection of original Blue Note albums, you shouldn't be living on
a tight budget! I don't have the budget nor the intention, but I happen to have a few early
pressings nevertheless.
So, the Blue Note label is very collectable. Some albums are easily worth a few thousands of
dollars, but even the more affordable titles are becoming more and more expensive. The bad
news is that there are many sellers on websites like eBay who try to take this trend to the
limit, trying to sell mid '70's (or later) re-releases for prices far over $100. I'm not sure what
exactly is happening, but it ain't right at all. It seems like some sellers are trying to change
the market with truely outrageous prices. Are these the outgrowths of the free market?
Back to the fun! Here are my early Blue Note LP's
Click on a link to see images (more to follow):
Sidney De Paris and His Blue Note Stompers (Blue Note LP 7016 - 10inch)
Fats Sadi Combo: The Swinging Fats Sadi Combo (Blue Note LP 5061 - 10inch)
Jimmy Smith: New Sound… A New Star (Blue Note LP 1512)
Jimmy Smith: Jimmy Smith At The Organ (Blue Note LP 1525)
Jimmy Smith: "At Club "Baby Grand" Wilmington, Delaware" (Blue Note LP 1529)
Jimmy Smith: Jimmy Smith At The Organ (Blue Note LP 1552)
Jimmy Smith: The Sounds Of Jimmy Smith (Blue Note LP 1556)
Jimmy Smith: Groovin' At Smalls' Paradise, vol.1 (Blue Note LP 1585)
3 Sounds: 3 Sounds (Blue Note LP 1600)
Jimmy Smith: House Party (Blue Note LP 4002)
Art Blakey and the Jazz Messengers (Blue Note LP 4003)
Art Blakey: Holiday For Skins, volume 1 (Blue Note LP 4004)
Art Blakey: Holiday For Skins, volume 2 (Blue Note LP 4005)
Horace Silver: Finger Poppin' With The Horace Silver Quintet (Blue Note LP 4008)
3 Sounds: Bottoms Up! (Blue Note LP 4014)
Horace Silver: Blowin' The Blues Away (Blue Note LP 4017)
Jimmy Smith: Crazy! Baby (Blue Note LP 4030)
Jimmy Smith: Home Cookin' (Blue Note LP 4050)
Stanley Turrentine: Blue Hour (Blue Note LP 84057)
Horace Silver: Doin' The Thing (Blue Note LP 4076)
Jimmy Smith: Midnight Special (Blue Note LP 4078)
Art Blakey: Mosaic (Blue Note LP 4090)
3 Sounds: It Just Got To Be (Blue Note LP 4120)
Kenny Burrell: Midnight Blue (Blue Note LP 4123)
Freddie, Roach: Mo' Greens Please (Blue Note LP 4128)
Stanley Turrentine: A Chip Of The Old Block (Blue Note LP 4150)
John Patton: Got A Good Thing Goin' (Blue Note LP 4229)

Jimmy Smith: Bucket (Blue Note LP 84235)
John Patton: Let 'Em Roll (Blue Note LP 4239)
3 Sounds: Vibrations (Blue Note LP 84248)
Jimmy Smith: I'm Moving On (Blue Note LP 84255)
Lou Donaldson: Alligator Bogaloo (Blue Note LP 84263)
3 Sounds: Live At The Lighthouse (Blue Note LP 84265)
Jimmy Smith: Open House (Blue Note LP 84269)
Lou Donaldson: Mr. Shing-A-Ling (Blue Note LP 84271)
Horace Silver: Serenade To A Soul Sister (Blue Note LP 84277)
Bobby Hutcherson: Total Eclipse (Blue Note LP 84291)
Donald Byrd: Slow Drag (Blue Note LP 84292)